When you're adding a product, you had the option to select if a product came in multiple variants. If you checked this box, you have the ability to add a SKU (product variant) at the bottom of the page.

By clicking "Add SKU" you'll need to save your product first. Make sure all the required fields are filled out and then click "Add SKU".

You have the option of saving the product and publishing (making it live and viewable to buyers) and saving the product and not publishing (not viewable to buyers). If you're not ready for your product to be visible, save and do not publish it.

The pop-up window allow you to enter in the following fields:
SKU (required): This is the variant title that will be shown to the buyer when the variant is selected in the dropdown
External ID: If your company uses an ERP integration, this is an external identifier. If you do not use any ERP systems, please ignore this field
Price: This is the wholesale price
MSRP: This is the retail price
Stock: You can designate the quantity in stock for this particular product variant
Minimum Order: For this product variant, you can designate a minimum order quantity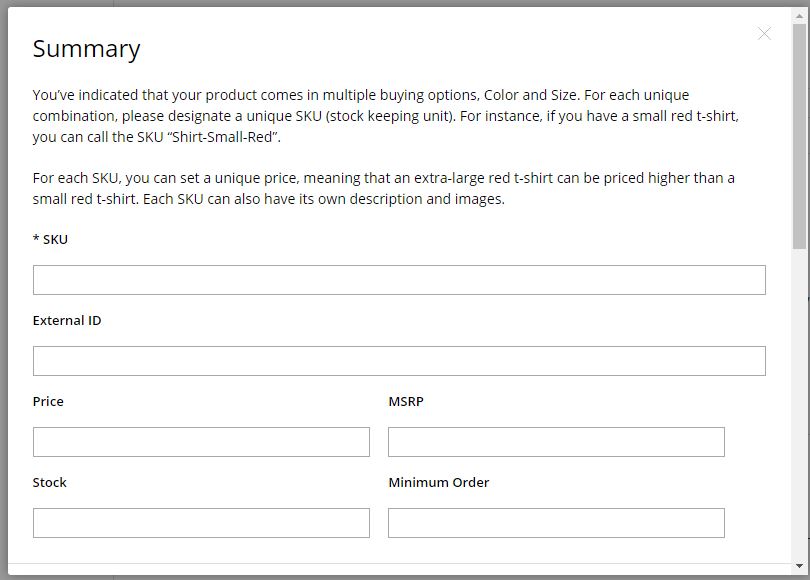 Previously, you defined one or two buying options - they'll show up here.
Here, make sure you fill out the values for the buying options that you've specified. For instance, you would set the color and size for this product variant. Be sure to fill out these fields in its entirety.
Also, if a product variant has its own description or images, you can fill them out here. When a buyer selects a product variant from the drop-down menu, the description and picture will change accordingly, depending if you have information for these fields.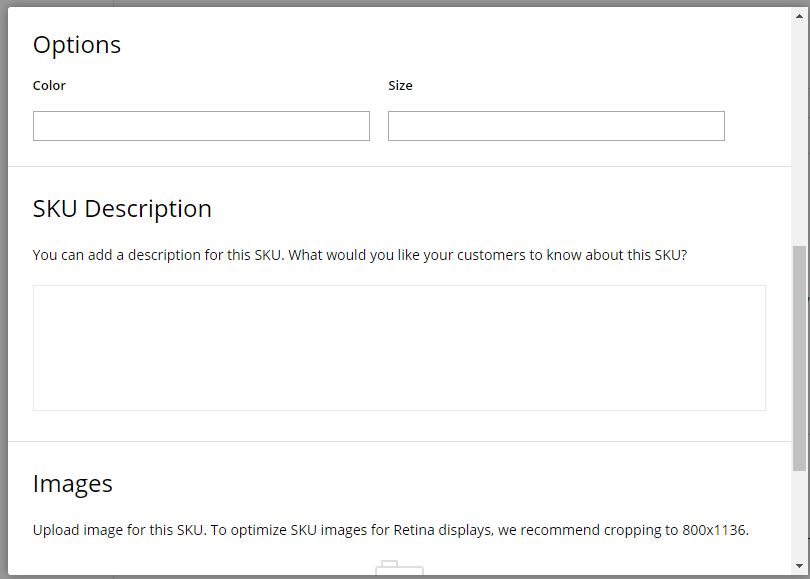 Lastly, save this product variant.